Nous sommes désolés, mais une erreur s'est glissée dans notre dernier communiqué au sujet du Club de planificateur Carpe Diem. La correction est indiquée en rouge.
We are sorry but there was a mistake in the Carpe Diem Planner Club info in our last weekly update. We have indicated the revised info in red.
---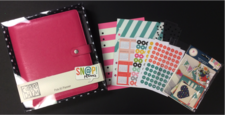 Dimanche, 27 août

de 10h30 à 12h
Sunday, August 27th

from 10:30am to noon
Lundi, 28 août de 19h à 20h30
Monday, August 28th from 7pm to 8:30pm

Donné par/ Taught by: Natalie
10$ pour les membres / for members
15$ pour les non-membres / for non-members
Chaque mois, nous vous attendons avec de nouveaux kits et de nouvelles idées pour décorer votre planificateur. Vous trouverez tous les détails dans cette rubrique. Appelez des maintenant pour réserver votre place!
The club meets once a month to decorate planners for the upcoming month. We'll be creating themed paper clips, and other embellishments while giving our monthly calendar character and style! You can find all the details of this club HERE. Call us to reserve your spot now!