Cartes "Swirly Hearts"
Dreamweaver Swirly Hearts Cards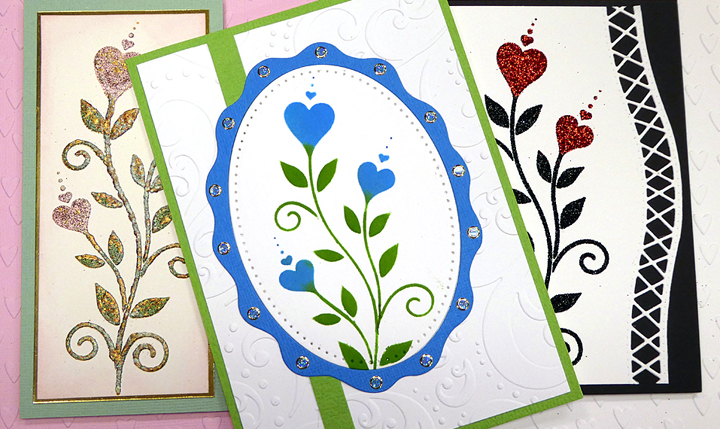 Jeudi, le 26 janvier - 18h30 à 21h
Thursday, January 26th - 6:30 to 9:00 pm
donné par / given by: Fran
$36.00
Joignez-vous à Fran pour sa prochaine classe avec les pochoirs de Dreamweaver. Vous créerez trois cartes très élégantes en utilisant le pochoir "Heart Whimsy". (Une photo de la troisième carte sera disponible bientôt.) Veuillez apporter les items suivants pour la classe: votre tapis de métier, votre tranche papier, du ruban adhésif double face, du ruban mousse, du ruban cache pour peindre (bleu ou vert), un couteau à palette régulier et un petit pinceau rond, #4 ou #6. Le pochoir "Heart Whimsy" est inclu dans les frais. Comme toujours, j'ai hâte de vous voir en classe.

Join Fran for her next Dreamweaver stencil class where you will create three very elegant cards, using the "Heart Whimsy" stencil. (Photo of third card to come.) Please bring the following items to class: a craft mat, a paper trimmer, double sided adhesive tape, foam tape, a small round #4 or #6 paint brush, masking tape and a palette knife for stencil paste. The Heart Whimsy stencil is included with your class. As always, I look forward to seeing you in class.
---
Samedi, 28 janvier de 10h à 22h

* COMPLET, LISTE D'ATTENTE SEULEMENT


Saturday, January 28th from 10am to 10pm

* SOLD OUT - WAIT LIST ONLY


40$
Quelques rappels :
Les frais d'inscription de 40$ (+ taxes)* sont payables à l'avance.
L'inscription comprend la collation du matin, le dîner et le souper, grignotines et breuvages.
Venez vous amuser avec nous et profitez de multiples cadeaux et tirages!
Tout le monde gagne un prix!!!
Vous pouvez vous inscrire en personne ou par téléphone.
L'inscription doit être payée au complet au moment de la réservation.
Pour être juste avec tout le monde, nous ne pouvons pas retenir une place non payée.
Si vous venez en groupe, avisez-nous au moment de la réservation afin que nous puissions vous asseoir à la même table.
Les portes ouvrent à 10 h.
Nous vous remercions de votre collaboration et de votre compréhension et espérons vous compter parmi les nôtres!

Reserve your spot now -- we sell out quickly!

Our all-day crops are $40* + taxes and include a light lunch, dinner, beverages & snacks.
Always a fun time and there are giveaways & raffles!
Everyone will go home with a prize!!!

Do you have a project that just never seems to get done?
This is the perfect opportunity.... 12 hours of uninterrupted crop time!
Or, just come and hang out with your fellow scrappy pals.
You can register in person or by phone.
All fees must be paid in full at the time of registration.
In fairness to all our customers, we will not "hold" places without full payment.
If you are attending with other people, please let us know at the time of registration
so that we can do our best to ensure you are sitting at the same table.
We thank you in advance for your cooperation and understanding and hope to see you there!
---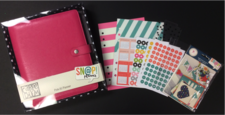 Dimanche, 29 janvier de 14h à 15h30
Sunday, January 29th from 2pm to 3:30pm
Mardi, 31 janvier de 19h à 20h30
Tuesday, January 31st from 7pm to 8:30pm
Donné par/ Taught by: Natalie
10$ pour les membres / for members
15$ pour les non-membres / for non-members
Chaque mois, nous vous attendons avec de nouveaux kits et de nouvelles idées pour décorer votre planificateur. Vous trouverez tous les détails dans cette rubrique. Appelez des maintenant pour réserver votre place!
The club meets once a month to decorate planners for the upcoming month. We'll be creating themed paper clips, and other embellishments while giving our monthly calendar character and style! You can find all the details of this club HERE. Call us to reserve your spot now!
---
Lundi, 30 janvier de 11h30 ou 12h15
Monday, January 30th, from 11:30am or 12:15pm
-OU/OR-
Jeudi, 2 février à 18h30 ou à 19h15
Thursday, February 2nd at 6:30pm or 7:15pm
avec/with Denise
$5 (inscription requise, paiement au moment de l'inscription -- register and pay in advance)
emporte-pièces / cutting dies (ECD):
- Heart Background
- Postage Stamp Rectangles
jeu de tampons/emporte-pièces Filled With Love Stamp & die combo (Taylored Expression)
paillettes Bright Cranberry glitter (ECD)
feuille adhésive à double face / double-sided adhesive sheet (ECD)
tampon-encreur Versamark ink pad (Tsukineko)
poudre à gaufrage blanche / detail white embossing powder
perles blanches / white pearls
cartons / cardstock:
- Crimson (Bazzill)
- Lace (Bazzill)
- noir / black (Papercut)
- Solar Crest 80lb (Neenah)
- Soft Finish White 100lb (ECD)
---
---



Samedi, 4 février de 10h à 15h (avec pause pour lunch)
Saturday, February 4th from 10am to 3pm (with a lunch break)
donné par / taught by : CeeCe
100$
Je suis une fille de ville, comme on dit. Les grands édifices et l'architecture me fascinent. J'aime également les contrastes comme par exemple le béton contre une végétation dense ou bien les lumières et néons qui reflètent au ciel la nuit. Dans cette classe, je partagerai avec vous mon processus pour créer de façon intuitive un paysage urbain de nuit sur une toile de 16" X 20". Vous y apprendrez à ajouter des couleurs vives pour ajouter du contraste et comment fondre les couleurs sur un arrière-plan noir avec de la peinture acrylique. Aucune expérience en dessin n'est requise; le désir de créer est tout ce dont vous aurez besoin!
Tout le matériel est inclus dans les frais, sauf les outils suivants que vous devrez apporter avec vous en class:
galet de texture Catalyst #W-06
pinceau plat large d'au moins 2"
pinceau plat 1"
crayon noir Aquarellable Stabilo
couteau à palette
lingettes humides
serviettes de papier
bol à eau pour rincer vous pinceaux
pistolet chauffant
tablier

Notez que le galet Catalyst, les pinceaux et le crayon Stabilo sont disponibles pour achat chez Scrapbook Centrale.

J'ai bien hâte de peindre avec vous!

------------------------------

Being a city girl through and through, I've always been fascinated by cityscapes and architecture. I also find beauty in contrasts. For example, a concrete jungle against lush vegetation or strong lights against the night sky make for a strong statement. In this class, I will walk you through my process for creating a striking cityscape at night on a 16" X 20" canvas using black gesso as a base and incorporating bright bold colors with acrylic paint. I will also share my tips on how to effectively blend and incorporate colors into a background. You will learn how to intuitively create a cityscape with just one tool. No drawing experience required; all you need is a passion to create.

All the supplies are included, except for the following items which you will have to bring to class:
straight edge Catalyst wedge #W-06

large flat paint brush, 2" or bigger

1" flat brush

black Stabilo Aquarellable pencil

palette knife

baby wipes

paper towels

water bucket to rinse your brushes

heat tool

apron
Note: the Catalyst tool and the brushes are all available for purchase at Scrapbook Centrale. Reserve yours now!

I am looking forward to creating with you