Carte design 3D / 3D Design Cards


Samedi, 3 juin à 10h30
Saturday, June 3rd at 10:30am
Donné par / taught by: Fran
30$
Joignez-vous à Fran pour sa nouvelle classe de cartes à motifs 3D. Venez vous amuser avec des encres Distress, des dossiers à gaufrage 3D et les "Perfect Pearls" pour créer trois cartes élégantes. Veuillez apporter votre kit de base ainsi que les items suivants: du ruban amovible au fini mat (3/4"), un pinceau rond (#4, 5 ou 6) et de la colle liquide. Vous recevrez un pot de "Perfect Pearls" avec cette classe. Comme toujours, j'ai hâte de vous voir en classe.
Join Fran for her new class using Distress Inks, Perfect Pearls and 3D embossing folders, where you will create three elegant cards. Please bring your basic tool kit plus the following items to class: ¾" matte finish removable Scotch tape, a round paint brush (#4, 5 or 6) and liquid glue. This class includes one container of Perfect Pearls. As always, I look forward to seeing you in class.
---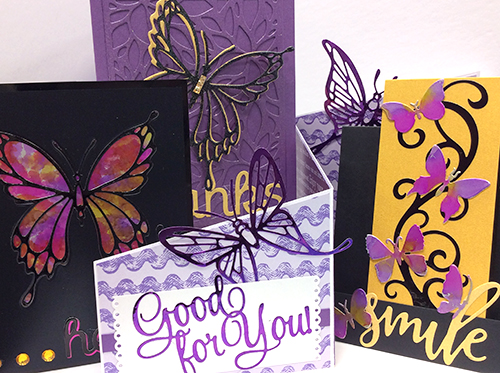 Mardi, 6 juin à 10h30




Tuesday, June 6th at 10:30am




Donné par / Taught by: Denise




30$



Une classe de confection de cartes avec les nouveaux emporte-pièces d'Impression Obsession et nouveaux papiers Papercut. Ces 4 belles cartes avec papillons sont fabriquées à l'aide des nouveaux Mirripaper ainsi que du papier luisant, du papier métallique et des encres à l'alcool. Veuillez apporter votre kit de base.
We will be making 4 cards using some beautiful new dies from Impression Obsession, and some great new papers from Papercut. We will incorporate the new Mirripaper as well as some gloss paper, metallic paper and a little alcohol ink to make these beautiful butterfly cards. Please bring your basic tool kit.
---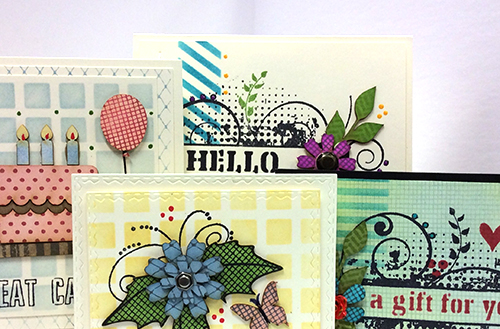 Mercredi, 7 juin à 18h30
Wednesday, June 7th, at 6:30pm
Donné par / Taught by: Denise
32$

Les "Mat minis" ajouteront une nouvelle dimension à vos projets de cartes! Ces formes adorables peuvent être estampées, enduites d'encre, gaufrées et plus encore. Nous vous invitons à cette classe pour faire plusieurs cartes toutes occasions avec ces formes versatiles et apprendre de nouvelles techniques avec les encres Archival et les Enamel Accents. Veuillez apporter votre kit de base.
Mat minis will add a whole new dimension to your card making projects! These adorable shapes can be stamped, inked, embossed, and so much more. Join us in making several all occasion cards using these versatile shapes, all while learning some new techniques with Archival inks and Enamel Accents. Please bring your basic tool kit.
---
Samedi, 10 juin de 10h à 22h
Saturday, June 10th, 10am to 10pm
40$


Quelques rappels :
Les frais d'inscription de 40$ (+ taxes)* sont payables à l'avance.
L'inscription comprend la collation du matin, le dîner et le souper, grignotines et breuvages.
Venez vous amuser avec nous et profitez de multiples cadeaux et tirages!
Tout le monde gagne un prix!!!
Vous pouvez vous inscrire en personne ou par téléphone.
L'inscription doit être payée au complet au moment de la réservation.
Pour être juste avec tout le monde, nous ne pouvons pas retenir une place non payée.
Si vous venez en groupe, avisez-nous au moment de la réservation afin que nous puissions vous asseoir à la même table.
Les portes ouvrent à 10 h.
Nous vous remercions de votre collaboration et de votre compréhension et espérons vous compter parmi les nôtres!

Reserve your spot now -- we sell out quickly!

Our all-day crops are $40* + taxes and include a light lunch, dinner, beverages & snacks.
Always a fun time and there are giveaways & raffles!
Everyone will go home with a prize!!!

Do you have a project that just never seems to get done?
This is the perfect opportunity.... 12 hours of uninterrupted crop time!
Or, just come and hang out with your fellow scrappy pals.
You can register in person or by phone.
All fees must be paid in full at the time of registration.
In fairness to all our customers, we will not "hold" places without full payment.
If you are attending with other people, please let us know at the time of registration
so that we can do our best to ensure you are sitting at the same table.
We thank you in advance for your cooperation and understanding and hope to see you there!
---
Mardi, 13 juin à 18h30
Tuesday, June 13th at 6:30pm
Donné par / Taught by: Denise
30$

Nous vous invitons à cette classe où vous aurez le plaisir de mettre en pratique plusieurs techniques telles que l'estampage, la mise-en-couleurs et le gaufrage pour confectionner 4 cartes toutes occasions avec les nouveaux tampons et emporte-pièces de Penny Black. Ces images de petites bêtes amusantes sont tellement adorables. À ne pas manquer! Veuillez apporter votre kit de base.
Join this technique filled class where we will ink, stamp, color and emboss while creating 4 all occasion cards using the newest stamps and dies from Penny Black. The cool little critters make the cutest cards. Not to be missed! Please bring your basic tool kit.
---
Samedi, 17 juin à 10h30
Saturday, June 17th at 10:30am
Donné par / taught by: Gisele Cabral
50$
Venez peindre un sac fourre-tout avec le pochoir "Amalia" de Marlene Meijer-van Niekerk, les peintures de Dina Wakley, la peinture à craquelure de Deco Art, des Stickles et Liquid Pearls. Tous les médiums sont inclus et chaque élève partira avec son pochoir Amalia de 12" X 12". Les élèves devront apporter: des pinceaux à pochoir, une pinceau fin 10/0, des pinceaux variés pour peinture acrylique, un tablier, un pistolet chauffant, des lingettes humides et essuis-tout.

In this class, you will be decorating a tote bag using Marlene Meijer-van Niekerk amazing "Amalia" stencil, Dina Wakley paints, Deco Art crackle paint, Stickles and Liquid Pearls. All the mediums are included and everyone will leave with their Amalia 12X12 stencil. Students are required to bring the following: stipple brushes for stenciling, 10/0 liner brush, assorted acrylic paint brushes, an apron, a heat gun, baby wipes and paper towels.