Nos tables d'aubaines sont toujours très populaires lors de notre weekend NSD. Encore une fois cette année, il nous reste quelques articles que nous aimerions vous offrir prix spécial NSD. Ces items sont en vente dès maintenant et ce jusqu'au lundi, 22 mai. Les quantités sont limitées -- magasinez tôt afin de profiter de la meilleure sélection!
Our NSD bargain tables are always a huge hit. Once again we have some of these items left, so we are offering them to you at the same great prices we offered at our event. These tables are already available to shop and will continue to be available through Victoria Day weekend (until Monday, May 22nd). Shop early for best selection as quantities are limited.
---

produits utilisés / products used:
Distress Oxide

Lindy's Starburst sprays

cires Finnabair waxes

crayons Distress Crayons

Lors du weekend NSD, nos activités à faire et à emporter furent si populaires que nous avons décidé de les offrir à tous! Ce samedi, 20 mai, vous aurez l'occasion de faire tous les 4 projets. Vous disposerez de 2 heures pour compléter tous les projets au coût de 18$ par personne. Recevez un petit cadeau de participation après avoir complété tous les projets. Choisissez parmi ces 3 banques d'heures : 10h, 12h30 ou 15h. Cette activité sera populaire alors ne tardez pas à réserver votre place.
Our NSD make'n'takes were so popular that we decided to offer them to everyone! This coming Saturday, May 20, we will be offering 4 different make'n'takes for you to try. You will have about 2 hours to complete all of the make'n'takes at a cost of $18 per person. When you complete all the make'n'takes you will receive a small thank you gift for participating. There will be 3 time slots available to accommodate your schedule. You can come at 10am, 12:30pm or 3pm. So call the store and register today, as we expect places to fill up fast.
---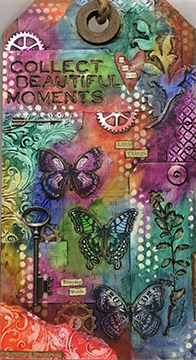 Dimanche, 21 mai à 10h
Sunday, May 21st at 10am
- ou / or -
Mardi, 30 mai à 18h30
Tuesday, May 30th at 6:30pm

Donné par / Taught by: Denise
34$

Apprenez les rudiments des Crayons Distress et créez un beau projet de collage très coloré. Vous composerez une pièce d'art unique en son genre avec des emporte-pièces, du métal, du tissu et plus. Veuillez apporter votre kit de base pour techniques mixtes.
Come learn some of the basics of Distress Crayons, and create a colorful collage. We will incorporate die cuts, metal, fabric and much more while creating a unique piece of art. Please bring your mixed media kit.
---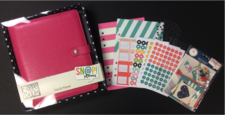 Dimanche, 21 mai de 14h à 13h50
Sunday, May 21st from 2pm to 3:30pm
Donné par/ Taught by: Natalie
10$ pour les membres / for members
15$ pour les non-membres / for non-members
Chaque mois, nous vous attendons avec de nouveaux kits et de nouvelles idées pour décorer votre planificateur. Vous trouverez
tous les détails dans cette rubrique ICI
. Appelez des maintenant pour réserver votre place!
The club meets once a month to decorate planners for the upcoming month. We'll be creating themed paper clips, and other embellishments while giving our monthly calendar character and style! You can find all the details of this club HERE. Call us to reserve your spot now!
---

Mardi, 23 mai à 10h30 et 18h30
Tuesday, May 23rd at 10:30am and 6:30pm
Donné par / Taught by: Denise
30$

Nous vous invitons à cette classe où vous aurez le plaisir de mettre en pratique plusieurs techniques telles que l'estampage, la mise-en-couleurs et le gaufrage pour confectionner 4 cartes toutes occasions avec les nouveaux tampons et emporte-pièces de Penny Black. Ces images de petites bêtes amusantes sont tellement adorables. À ne pas manquer! Veuillez apporter votre kit de base.
Join this technique filled class where we will ink, stamp, color and emboss while creating 4 all occasion cards using the newest stamps and dies from Penny Black. The cool little critters make the cutest cards. Not to be missed! Please bring your basic tool kit.
---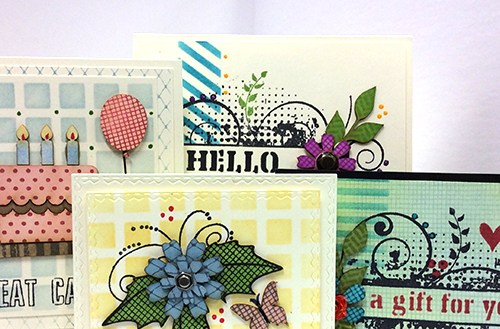 Mercredi, 24 mai à 10h30 ou à 18h30
Wednesday, May 24th, at 10:30am or 6:30pm
Donné par / Taught by: Denise
32$

Les "Mat minis" ajouteront une nouvelle dimension à vos projets de cartes! Ces formes adorables peuvent être estampées, enduites d'encre, gaufrées et plus encore. Nous vous invitons à cette classe pour faire plusieurs cartes toutes occasions avec ces formes versatiles et apprendre de nouvelles techniques avec les encres Archival et les Enamel Accents. Veuillez apporter votre kit de base.
Mat minis will add a whole new dimension to your card making projects! These adorable shapes can be stamped, inked, embossed, and so much more. Join us in making several all occasion cards using these versatile shapes, all while learning some new techniques with Archival inks and Enamel Accents. Please bring your basic tool kit.
---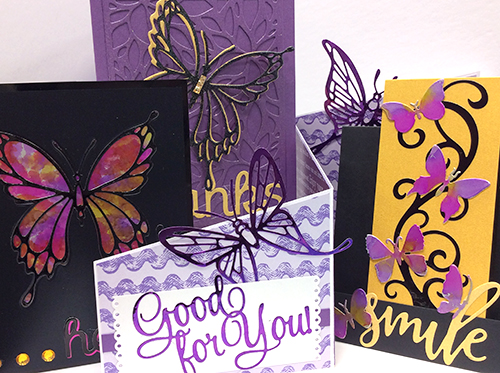 Lundi, 29 mai à 10h30 ou à 18h30




Monday, May 29th at 10:30am or 6:30pm




Donné par / Taught by: Denise




30$



Une classe de confection de cartes avec les nouveaux emporte-pièces d'Impression Obsession et nouveaux papiers Papercut. Ces 4 belles cartes avec papillons sont fabriquées à l'aide des nouveaux Mirripaper ainsi que du papier luisant, du papier métallique et des encres à l'alcool. Veuillez apporter votre kit de base.
We will be making 4 cards using some beautiful new dies from Impression Obsession, and some great new papers from Papercut. We will incorporate the new Mirripaper as well as some gloss paper, metallic paper and a little alcohol ink to make these beautiful butterfly cards. Please bring your basic tool kit.
---

Samedi, 10 juin de 10h à 22h
Saturday, June 10th, 10am to 10pm
40$


Quelques rappels :
Les frais d'inscription de 40$ (+ taxes)* sont payables à l'avance.
L'inscription comprend la collation du matin, le dîner et le souper, grignotines et breuvages.
Venez vous amuser avec nous et profitez de multiples cadeaux et tirages!
Tout le monde gagne un prix!!!
Vous pouvez vous inscrire en personne ou par téléphone.
L'inscription doit être payée au complet au moment de la réservation.
Pour être juste avec tout le monde, nous ne pouvons pas retenir une place non payée.
Si vous venez en groupe, avisez-nous au moment de la réservation afin que nous puissions vous asseoir à la même table.
Les portes ouvrent à 10 h.
Nous vous remercions de votre collaboration et de votre compréhension et espérons vous compter parmi les nôtres!

Reserve your spot now -- we sell out quickly!

Our all-day crops are $40* + taxes and include a light lunch, dinner, beverages & snacks.
Always a fun time and there are giveaways & raffles!
Everyone will go home with a prize!!!

Do you have a project that just never seems to get done?
This is the perfect opportunity.... 12 hours of uninterrupted crop time!
Or, just come and hang out with your fellow scrappy pals.
You can register in person or by phone.
All fees must be paid in full at the time of registration.
In fairness to all our customers, we will not "hold" places without full payment.
If you are attending with other people, please let us know at the time of registration
so that we can do our best to ensure you are sitting at the same table.
We thank you in advance for your cooperation and understanding and hope to see you there!