Oiseaux et bourgeons
Birds and Blossoms
Mardi, 7 mars à 10h30
Tuesday, March 7th at 10:30am
- ou / or -
Mercredi, 8 mars à 18h30
Wednesday, March 8th at 6:30pm
Donné par / given by: Denise
28$

Une classe parfaite pour annoncer la venue du printemps: 3 cartes très élégantes faites avec les nouveaux tampons et emporte-pièces de Heartfelt Creations. Vous apprendrez à donner des formes simples à vos fleurs pour qu'elles se distinguent de l'arrière-plan rendant ces cartes uniques. Les places sont limitées; réservez dès maintenant! Veuillez apporter votre kit de base et un stylus de grosseur moyenne.

Join the class in making 3 beautifully elegant cards using the latest stamps and dies from Heartfelt Creations. You will learn about flower shaping basics while creating these gorgeous cards that are almost too nice to give away! Space is limited so register early! Please bring your basic tool kit and a medium sized ball stylus.
---
Mardi, 14 mars à 10h30
Tuesday, March 14th at 10:30am
- ou / or -
Mercredi, 15 mars à 18h30
Wednesday, March 15th at 6:30pm
Donné par: Denise
28$
Une classe durant laquelle vous ferez plusieurs cartes interactives avec les nouveaux tampons et emporte-pièces de Lawn Fawn; carte à glissière, carte pop-up, carte dimensionnelle et plus. Venez vous amuser! Apportez votre kit de base.

We will make several interactive cards using the newest stamps and dies from Lawn Fawn. Slider, pop-up and layered cards are all part of this class. Come join the fun! Please bring your basic tool kit.
---
Dimanche, 19 mars à 13h
Sunday, March 19th at 1pm
- ou/or -
Mardi, 21 mars à 18h30
Tuesday, March 21st at 6:30pm

Donné par / given by: Natalie
$38
Une belle pièce décorative ou utilitaire qui évoque des souvenirs d'antan faite à partir de la vaste gamme de produits Distress, incluant les nouvelles encres Distress Oxide qui n'ont pas d'égal sur le marché présentement! Vous aurez l'occasion d'expérimenter les encres, peintures et pâtes qui s'agencent bien avec les pièces de la gamme Idea-ology. Un projet vraiment unique en son genre.
Veuillez apporter votre kit de base pour les techniques mixtes.
Join us in creating a fantastically vintage piece that can be both decorative and useful. You will incorporate a wide range of Distress products, including the new Distress Oxide Inks that are like nothing else! You can experiment and learn while combining inks, paints and pastes with various Idea-ology pieces making your project truly unique. Please bring your mixed media tool kit.
---
Mardi, 21 mars à 10h30
Tuesday, March 21st at 10:30am
- ou / or -
Mercredi, 22 mars à 18h30
Wednesday, March 22nd, at 6:30pm

Donné par / taught by: Denise
$35

Avez-vous entendu parlé des Chibitronics? Il s'agit de petites lumières qu'on peut installer sur une carte de souhait pour la rendre interactive et amusante! Denise vous invite à venir estamper 5 cartes avec la nouvelle collection 'Glimmer and Glow'; vous aurez le plaisir de colorier et d'ajouter les lumières sur 2 de ces cartes. Si le temps le permet, vous pourrez colorier le reste. Veuillez apporter votre kit de base et du ruban mousse adhésif.

If you've been wondering about Chibitronics lights for cards then this is the class for you! We will stamp 5 cards using stamps from the new Glimmer and Glow collection. Then we will colour and add lights to 2 of those cards. All cards will be coloured if time permits. Please bring your basic tool kit including foam tape.
---
Samedi, 25 mars de 10h à 22h
Saturday, March 25th, 10am to 10pm
40$
Quelques rappels :
Les frais d'inscription de 40$ (+ taxes)* sont payables à l'avance.
L'inscription comprend la collation du matin, le dîner et le souper, grignotines et breuvages.
Venez vous amuser avec nous et profitez de multiples cadeaux et tirages!
Tout le monde gagne un prix!!!
Vous pouvez vous inscrire en personne ou par téléphone.
L'inscription doit être payée au complet au moment de la réservation.
Pour être juste avec tout le monde, nous ne pouvons pas retenir une place non payée.
Si vous venez en groupe, avisez-nous au moment de la réservation afin que nous puissions vous asseoir à la même table.
Les portes ouvrent à 10 h.
Nous vous remercions de votre collaboration et de votre compréhension et espérons vous compter parmi les nôtres!

Reserve your spot now -- we sell out quickly!

Our all-day crops are $40* + taxes and include a light lunch, dinner, beverages & snacks.
Always a fun time and there are giveaways & raffles!
Everyone will go home with a prize!!!

Do you have a project that just never seems to get done?
This is the perfect opportunity.... 12 hours of uninterrupted crop time!
Or, just come and hang out with your fellow scrappy pals.
You can register in person or by phone.
All fees must be paid in full at the time of registration.
In fairness to all our customers, we will not "hold" places without full payment.
If you are attending with other people, please let us know at the time of registration
so that we can do our best to ensure you are sitting at the same table.
We thank you in advance for your cooperation and understanding and hope to see you there!
---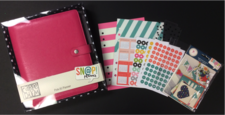 Dimanche, 26 mars de 14h à 13h50
Sunday, March 26th from 2pm to 3:30pm
-ou/or-
Mardi, 28 mars de 19h à 20h30

Tuesday, March 28th from 7pm to 8:30pm
Donné par/ Taught by: Natalie
10$ pour les membres / for members
15$ pour les non-membres / for non-members
Chaque mois, nous vous attendons avec de nouveaux kits et de nouvelles idées pour décorer votre planificateur. Vous trouverez tous les détails dans cette rubrique. Appelez des maintenant pour réserver votre place!
The club meets once a month to decorate planners for the upcoming month. We'll be creating themed paper clips, and other embellishments while giving our monthly calendar character and style! You can find all the details of this club HERE. Call us to reserve your spot now!
---
---
Veuillez cliquez ICI pour connaitre notre politique d'annulation pour les classes et autres évènements.
Please click HERE to view our cancellation policy for classes and other events.