Club de planificateur Carpe Diem Planner Club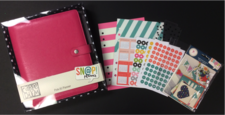 Mardi, 21 février de 19h à 20h30Tuesday, February 21st from 7pm to 8:30pm
-ou/or-
Dimanche, 26 février de 14h à 13h50
Sunday, February 26th from 2pm to 3:30pm
Donné par/ Taught by: Natalie
10$ pour les membres / for members
15$ pour les non-membres / for non-members
Chaque mois, nous vous attendons avec de nouveaux kits et de nouvelles idées pour décorer votre planificateur. Vous trouverez tous les détails dans cette rubrique. Appelez des maintenant pour réserver votre place!
The club meets once a month to decorate planners for the upcoming month. We'll be creating themed paper clips, and other embellishments while giving our monthly calendar character and style! You can find all the details of this club HERE. Call us to reserve your spot now!
---
Mercredi, 22 février à 19h
Wednesday, February 22nd, at 7pm
Donné par / taught by: Denise
$28

À l'aide d'images de la collection "Pink Your Life" de Stampendous, vous confectionnerez 5 charmante cartes, idéales pour toutes occasions. Vous aurez le choix de colorier avec le médium de votre choix mais libre à vous d'apporter vos crayons our marqueurs préférés. Veuillez apporter votre kit de base.

Join us in making 5 super cute cards featuring the adorably whimsical images from the Stampendous 'Pink Your Life' collection. Once completed, these cards are great for almost any occassion. You will have a choice of colouring tools, but please feel free to bring your favorite pencils or markers to use on your images. Please bring your basic tool kit.
---
Jeudi, 23 février à 18h30
Thursday, February 23rd at 6:30pm
- ou/or -
Dimanche, 26 février à 10h30
Sunday, February 26th at 10:30am
Donné par / given by: Natalie
$28
Tout bon livre commence par de belles pages! Vous êtes invités à participer à cette classe durant laquelle vous vous amuserez avec la vaste gamme Dylusions, des incontournables classiques tels que les encres en vaporisateur et les tampons aux plus récents pochoirs et crayons de peinture. Apprenez à maîtriser plusieurs techniques avec lesquelles vous composerez plusieurs pages qui seront par la suite reliées dans un petit journal. Vous repartirez avec un petit livre à votre image, les doigts tachés d'encre et le sourire aux lèvres!
Veuillez apporter votre kit de base pour techniques mixtes.
Every good book starts with great pages! Join us in playing with a wide range of Dylusions products, from the original sprays and stamps to the newest stencils and paint pens. You will use many different techniques to create individual pages that you will bind into a small journal ready for you to record your own story. A class of inky messy fun!!
Please bring your mixed media tool kit.
---
Samedi, 25 février de 10h à 22h

*COMPLET, Liste d'attente *


Saturday, February 25th, 10am to 10pm

*SOLD OUT, WAIT LIST ONLY*


40$
Quelques rappels :
Les frais d'inscription de 40$ (+ taxes)* sont payables à l'avance.
L'inscription comprend la collation du matin, le dîner et le souper, grignotines et breuvages.
Venez vous amuser avec nous et profitez de multiples cadeaux et tirages!
Tout le monde gagne un prix!!!
Vous pouvez vous inscrire en personne ou par téléphone.
L'inscription doit être payée au complet au moment de la réservation.
Pour être juste avec tout le monde, nous ne pouvons pas retenir une place non payée.
Si vous venez en groupe, avisez-nous au moment de la réservation afin que nous puissions vous asseoir à la même table.
Les portes ouvrent à 10 h.
Nous vous remercions de votre collaboration et de votre compréhension et espérons vous compter parmi les nôtres!

Reserve your spot now -- we sell out quickly!

Our all-day crops are $40* + taxes and include a light lunch, dinner, beverages & snacks.
Always a fun time and there are giveaways & raffles!
Everyone will go home with a prize!!!

Do you have a project that just never seems to get done?
This is the perfect opportunity.... 12 hours of uninterrupted crop time!
Or, just come and hang out with your fellow scrappy pals.
You can register in person or by phone.
All fees must be paid in full at the time of registration.
In fairness to all our customers, we will not "hold" places without full payment.
If you are attending with other people, please let us know at the time of registration
so that we can do our best to ensure you are sitting at the same table.
We thank you in advance for your cooperation and understanding and hope to see you there!
---
Mardi, 7 mars à 10h30
Tuesday, March 7th at 10:30am
- ou / or -
Mercredi, 8 mars à 18h30
Wednesday, March 8th at 6:30pm
Donné par / given by: Denise
28$

Une classe parfaite pour annoncer la venue du printemps: 3 cartes très élégantes faites avec les nouveaux tampons et emporte-pièces de Heartfelt Creations. Vous apprendrez à donner des formes simples à vos fleurs pour qu'elles se distinguent de l'arrière-plan rendant ces cartes uniques. Les places sont limitées; réservez dès maintenant! Veuillez apporter votre kit de base et un stylus de grosseur moyenne.

Join the class in making 3 beautifully elegant cards using the latest stamps and dies from Heartfelt Creations. You will learn about flower shaping basics while creating these gorgeous cards that are almost too nice to give away! Space is limited so register early! Please bring your basic tool kit and a medium sized ball stylus.
---
Dimanche, 19 mars à 13h
Sunday, March 19th at 1pm
- ou/or -
Mardi, 21 mars à 18h30
Tuesday, March 21st at 6:30pm

Donné par / given by: Natalie
$38
Une belle pièce décorative ou utilitaire qui évoque des souvenirs d'antan faite à partir de la vaste gamme de produits Distress, incluant les nouvelles encres Distress Oxide qui n'ont pas d'égal sur le marché présentement! Vous aurez l'occasion d'expérimenter les encres, peintures et pâtes qui s'agencent bien avec les pièces de la gamme Idea-ology. Un projet vraiment unique en son genre.
Veuillez apporter votre kit de base pour les techniques mixtes.
Join us in creating a fantastically vintage piece that can be both decorative and useful. You will incorporate a wide range of Distress products, including the new Distress Oxide Inks that are like nothing else! You can experiment and learn while combining inks, paints and pastes with various Idea-ology pieces making your project truly unique. Please bring your mixed media tool kit.