Journée nationale du collimage
National Scrapbook Day
° Le saviez-vous que cet évènement ne s'adresse pas seulement qu'aux adeptes du collimage? C'est un évènement où les participants s'adonnent à plusieurs disciplines artistiques: confection de cartes, journal artistique, techniques mixtes, artisanat et plus encore. Tous sont les bienvenus!
° Le saviez-vous qu'il ne reste que quelques places pour les vendredi 5 mai et dimanche 7 mai? Alors n'hésitez pas à réserver vos places dès maintenant en composant le 514.683.5558. Si vous avez déjà votre place pour le samedi, laissez-vous tenter et réservez pour une 2e date... doublez votre plaisir!
° Le saviez-vous qu'il existe un taux préférentiel pour l'évènement à l'hôtel Hampton Inn? Composez le 514.633.8243 et demandez à parler à Chantal Reuben ou demandez le taux de Scrapbook Centrale à 129$.
Pour plus de détails, cliquez ICI.
------------------------------------
° Did you know that National Scrapbook Day is not only for scrapbookers? At this event, you will find not only scrapbookers, but cardmakers, art journalers, mixed media enthusiasts, crafters and many others. All are welcome!
° Did you know that there are only a few spots left for Friday, May 5th and Sunday, May 7th? Don't hesitate to reserve your spot now at 514.683.5558. And if you've already reserved for Saturday, why not double the fun and register for another day?!
° Did you know that there's a preferred rate at the Hampton Inn for the event? To reserve, call the local number 514.633.8243 and ask for Chantal Reuben or ask for the Scrapbook Centrale preferred rate of 129$.

For more details, please click HERE.
---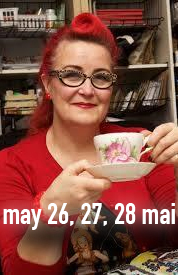 ° Saviez-vous qu'il reste des places pour les classes de Dyan Reaveley? Vous trouverez tous les détails ICI.
° Did you know that there are still some spots available for Dyan Reaveley's awesome classes? Come join the fun! You'll find all the details HERE.
---
Veuillez noter que notre magasin sera fermé dimanche, le 16 avril.
Please note that our store will be closed on Sunday, April 16th.