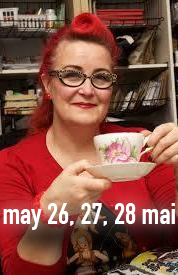 De retour chez Scrapbook Centrale, Dyan Reaveley nous offre 3 nouvelles classes! Le coût de chaque classe inclus presque tout le matériel sauf une revue pour découpage/collage et crayon préféré en noir et en blanc! (Nous recommandons le port d'un tablier.)


du 26 au 28 mai 2017
les places sont limitées -- les inscriptions se feront

dès 10h, samedi le 8 avril

vous pouvez réserver soit en personne (3349, boul. des Sources) ou par téléphone 514-683-5558 ou 888-383-5558
Veuillez noter qu'il n'y aura aucun remboursement ni crédit pour les annulations

Dyan Reaveley is back at Scrapbook Centrale! She will be offering 3 brand new classes. Dyan's classes include almost all the supplies, except for a magazine for collage and your favorite white and black doodling pens! (We suggest you bring an apron.)
May 26 to 28th, 2017
Spaces are limited --

registration will open at

10:00am on Saturday, April 8th

Registration can be made in person (3349 Sources Blvd) or by phone

(514)683-5558 or 1-888-383-5558

Please note that there will be no refund nor store credit for cancellations
*******************************************************************************
AU-DELÀ DE LA PAGE
EXPANDING THE PAGE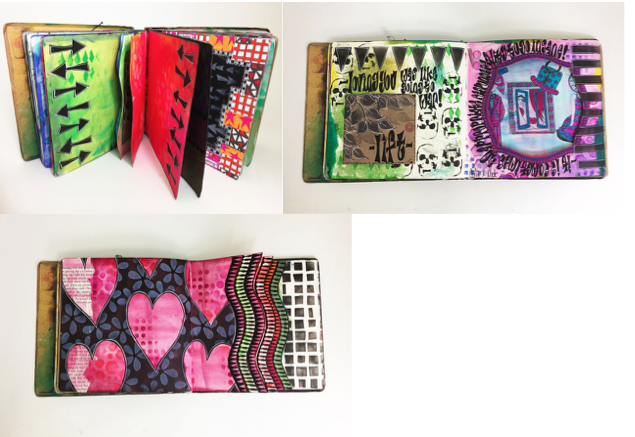 Vendredi, 26 mai de 9h30 à 18h
Friday, May 26th from 9:30am to 6pm
180$
Cette classe s'adresse à ceux et celles qui ont déjà suivi la classe "Art Journal Inky Extravangaza" ou la classe "Art Journal Painty Extravangaza" de l'année dernière. De cette façon, nous passerons plus de temps à compléter des pages dans le journal carré au lieu d'apprendre les techniques déjà acquises lors de ces classes. Un mélange d'encres, de peintures, de collages, d'écritures, de griffonnages avec une touche de scintillement et une pincée de dynamisme!!!

Inclus tout le matériel en plus d'un journal carré Dylusions. Notez qu'il est suggéré d'apporter votre crayon préféré blanc et un noir pour les écritures/griffonnages.



This class is recommended for those who have taken either Art Journal Inky Extravangaza or Art Journal Painty Extravangaza classes last year. We will spend less time on learning the techniques and more time on creating finished pages in the square journal. A blend of inks, paints, collage, writing, doodling, imagery, a touch of sparkle and a pinch of oomph!!!


Includes all supplies PLUS a square Dylusions journal. Also, it never hurts to have your favorite doodling pen in both black and white.
---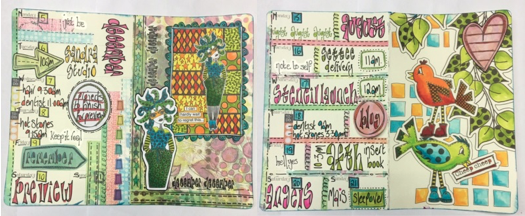 Samedi, 27 mai de 10h à 17h30
Saturday, May 27th from 10am to 5:30pm
170$

"Les planificateurs sont très tendances en ce moment mais ils sont un peu trop "propres" à mon goût. De plus, j'oublie toujours d'en apporter un avec moi. Mais un journal créatif qui peut aussi servir de "Dyary" (planificateur à la Dyan), ça c'est autre chose! Un journal comme celui-là, ça me suit partout!!!"

Je vous présente, le "Dylusions Dyary" ... Amplement d'espace pour planifier et enregistrer vos rendez-vous mais aussi de l'espace suffisant pour la créativité. Que vous soyez déjà adepte du journal artistique et désireux d'apprendre l'organisation ou adepte de la planification mais désireux d'en apprendre davantage sur les multimédias, le "Dyary" est parfait pour tous!

Veuillez apporter un résumé de vos récentes semaines ou votre journal intime et vos crayons préférés pour écriture en blanc et en noir.

*******

"Planners are big news at the moment but a little too "clean" for my taste. Lol. Plus I always forget to carry one around with me. But a journal doubling as a Dyary is a totally different matter, now that I carry everywhere!!!"
Introducing the Dylusions Dyary …
Plenty of room to plan and record my appointments, but also a plethora of journaling space to keep me occupied. Whether you are already a journaler wanting to get more organized or a planner wanting to dip your toe into mixed media, the Dyary is perfect for you.
Please bring a record of your last few weeks diary/planner and your favourite black and white pens.
---

Dimanche, 28 mai de 10h à 17h30
Sunday, May 28th from 10am to 5:30pm
155$
"J'ai toujours eu un faible pour les cartes: cartes d'anges, cartes de tarot, cartes à jouer. J'imagine que c'est parce qu'elles offrent un plaisir tactile et qu'elles sont faciles à tenir. On peut les utiliser comme telles ou bien pour embellir un journal."
Venez passer une journée en compagnie de Dyan qui vous montrera comment créer votre jeu de cartes alphabétiques. Après les avoir décorées avec des encres et de la peinture, vous y ajouterez des images avec tampons et collage. Que vous utilisiez les citations qui vous seront fournies ou les vôtres, vous repartirez avec un bel ensemble de cartes alphabétiques de citations tout à fait unique et personnalisé!

Veuillez apporter une ou deux revues pour découpage et vos crayons préférés pour écriture, en noir et en blanc.

****

"I have always had a thing about cards; e.g., angel cards, tarot cards, playing cards. I think it's the fact that they are so tactile and easy to hold in the hand. They can stand alone or you can use them as embellishments in your journals."

Spend the day with Dyan creating your own alphabet deck. After decorating them with various ink and paint techniques, we will be stamping and collaging. You'll be given examples of quotes or you can bring your own to create a personalized set.
Please bring a couple of magazines and black and white journaling pens.