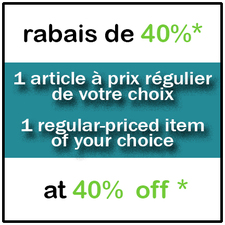 * Cette offre est en vigueur sur un achat en magasin seulement, mercredi le 5 avril 2017, et ne peut être combinée à aucune autre offre. La carte de fidélité ne sera pas estampée ni acceptée pour l'achat de cet article. Le rabais s'applique sur un item à prix régulier en magasin seulement, excluant les systèmes à découpe et à reliure.

Aucune commande spéciale.

Un achat par client

.
* This offer is valid on one in-store purchase only on Wednesday, April 5th, 2017 and cannot be combined with any other offer. This offer is not eligible for the Loyalty Program - cards will not be stamped nor accepted. Discount is applicable on one regular priced item -- no special orders. Excludes die cutting and binding machines.

One purchase per customer

.